Choosing the Right Implant Size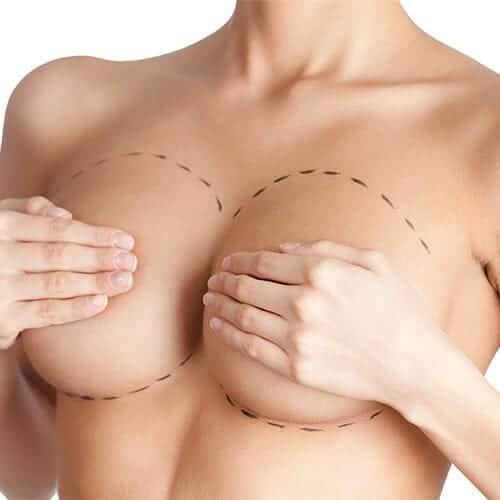 Breast Implant Options by Dr. Jaibaji
If you are considering breast augmentation, you have many options when it comes to choosing your size and type of breast implants. San Diego and La Jolla women can trust triple board certified plastic surgeon Dr. Moneer Jaibaji to share his experience and honest advice in helping them choose the right implants for their goals.
IMPLANT MATERIAL
The patients who visit Dr. Jaibaji for breast augmentation from San Diego and La Jolla can choose saline or silicone breast implants. Both types are FDA approved and each has its own benefits.
Saline implants are filled after they are inserted and therefore require very small incisions. The volume can be adjusted after the implants are placed, making them a flexible option. However, this type of implant is more likely to show wrinkling and rippling.
Silicone implants provide a soft, doughy texture that most patients say feels more like natural breast tissue. This line provides an expanded selection of sizes and shapes, and studies have indicated that these implants may provide a superior level of safety and lower incidence of complications.
You may even be the perfect candidate for a surgical technique that was developed in Europe which uses your own breast tissue as a natural breast implant to lift and reshape without increasing either volume or cup size.
SIZING YOUR BREAST IMPLANTS
Determining a cup size is not a consistent measurement and may vary from one bra manufacturer to another. No surgeon is able to guarantee a specific cup size following a Breast Augmentation.
Determining which implant size is best for you will depend on several factors;
Your desired look.
Shape and size of the breasts,
Your breast measurements.
Type of implant you choose.
During your consultation, bring picture of breast cases to give your surgeon an idea of what you expect. Using implant sizers and sometimes imaging will help you in determining the size of your implants. A big factor in determining the size of the implant is your anatomic measurements and the skin envelope.
It is really helpful to you if you try to avoid using cup sizes as the goal for your implant size. Bras come in different shapes and padding and the cup size will not be helpful in selecting the implant size. Very large and heavy implants (for your specific anatomy) will look worse and potentially "bottom out" as you age. Unpredictable stretching and thinning of your skin tissue over the years is a large risk with larger and heavier implants and may potentially lead to further surgeries and more scars in order to lift the breasts and deal with overly stretched and thinned tissue.
Your surgeon will take measurements of your anatomy to determine the range in size of implants best suited for your body frame.
OTHER CHOICES
To be satisfied with your breast augmentation results, there are other aspects of your breast implants that you will need to choose, including:
Shape – can either be round or contoured (also called teardrop). Round implants tend to improve upper fullness of the breasts and enhance cleavage.
Texture – describes the outer surface of the implant, which can be either smooth or textured.
Profile – specifies the amount the implant projects from the chest wall. Available options are low, moderate, and high profile.
Diameter – can be selected to fit the width of the patient's chest to ensure the breasts don't extend too far out into the armpits.
Size – this is a personal decision. To give you the breast size you want, Dr. Jaibaji will account for your existing breast tissue when determining implant size or fill volume (cc). As mentioned above, bra cup size is not fully standardized, it's not a reliable measure of breast size.
Dr. Jaibaji will take the time to explain each of these options to you and recommend the combination that will take into account your specific goals, as well as your anatomy and lifestyle. Read more..
YOUR SAFETY & SATISFACTION
Regardless of which implants you choose, you can be assured that Dr. Jaibaji has the training and experience to help you safely achieve the natural and lasting results that you desire. Dr. Jaibaji carefully chooses the implants he offers, selecting only products with superior warranties, longevity, and outstanding safety records. With all of the knowledge gained during your breast augmentation consultation, you will understand your options and be in the position to make an informed decision.
You deserve the best care and results. Dr. Jaibaji demands the best – from himself and from his staff – so that your expectations will be exceeded. You can Contact our office to get more information.