Surgical Tattoo Removal in San Diego
Personal Attention & Specialized Care
Nothing says forever like an unwanted tattoo. A change in your life or image can make a previous tattoo feel like a prison sentence. Most of the tattoos that we remove surgically at Jaibaji Plastic Surgery are the ones that have failed laser tattoo therapy. Patients request tattoo removal when it is in a visible area, or they have an unwanted name tattooed on their body.
Fortunately, tattoos of all sizes and colors can now be removed using a variety of modern techniques. If you're considering surgical tattoo removal you can see Dr. Moneer Jaibaji, our double-board-certified plastic surgeon, for a consultation.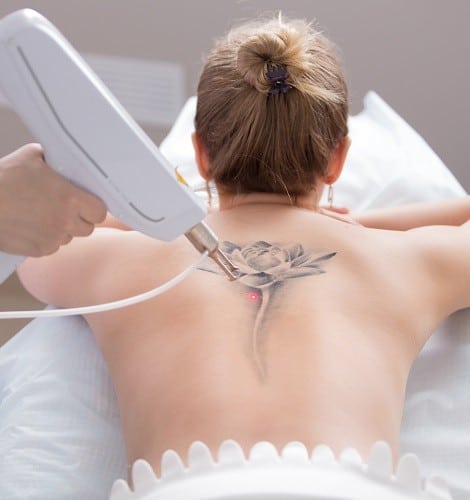 Board Certified Plastic Surgeon
Since opening his Coronado cosmetic surgery office doors in 2006, Dr. Jaibaji has maintained his vision of unparalleled patient care with high quality aesthetic and reconstructive results by personally supervising every aspect of the cosmetic surgery experience.



Hence, Dr. Jaibaji's unique attention to detail and personal care for his patients has led to his advice has been sought out on MTV's, "True Life", and local San Diego TV channels, among other places.
Surgical Tattoo Removal with Dr. Jaibaji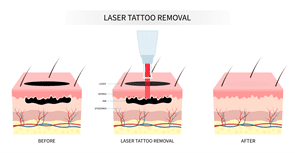 Tens of millions of people in the United States have one or more tattoos, and an estimated 17% have regrets about their choices and have considered tattoo removal. Professional tattoos use dense color pigments at precise depths to make the design pop on someone's skin, making these marks more challenging to remove than amateur tattoos.
Tattoo removal may involve several techniques, such as surgical scraping (dermabrasion), removal with a scalpel (excision) and laser technology. Laser tattoo removal is a popular method because the treatments don't require incisions or removal of skin tissue and come with fewer risks than dermabrasion and excision. However, some tattoos don't respond as well to laser treatments.
Surgical tattoo removal may be preferred for small tattoos that can be closed with sutures. Larger tattoos that require surgical excision or dermabrasion may require a skin graft or local flap to resurface the body area. Surgical tattoo removal is typically performed with local anesthesia on an outpatient basis, and patients must follow post-op instructions to reduce the risk of infection and other complications.
The surgical option allows patients to eliminate unwanted ink with one quick procedure. Laser tattoo removal involves multiple treatment sessions to eradicate the tattoo design. Our plastic surgeon uses a handheld laser device that emits energy pulses to the skin and targets the pigmented tattoo. The heat penetrates the upper skin tissues to fragment the tattoo. The body slowly metabolizes the fragmented ink in the days and weeks after the laser treatment, causing the tattoo to fade and eventually disappear.
Laser tattoo removal typically leaves the skin smooth and looking untouched. It's rare for patients to have scarring after laser treatments for unwanted tattoos. However, existing scar tissue will remain at the end of the treatment sessions. Surgical tattoo removal may leave some incision lines or scarring, depending on the size and location of the tattoo.
Tattoo Removal Recovery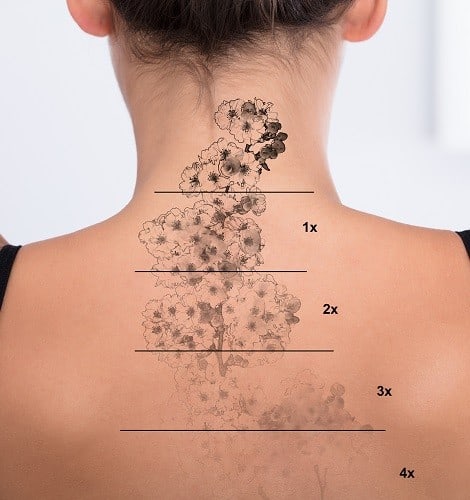 Recovery after tattoo removal depends on the surgical technique or laser technology. Surgical tattoo removal typically involves wound care, swelling, bruising and mild to moderate discomfort while the area heals.
Laser tattoo removal may cause the affected skin to appear pale or pink, and the tattoo lines will scab or flake off. Recovery can take six to eight weeks, and patients need to avoid excessive sun exposure for the first four weeks because the skin is sensitive. Most patients see a visible improvement after their first laser session, with the pigment beginning to fade away. Multiple sessions are often necessary to eliminate the tattoo and reveal the natural skin tone. However, some tattoos may not go away completely, depending on the tattoo's size, depth and color.
Cosmetic procedures, such as tattoo removal, come with risks. Tattoo removal may cause skin pigmentation changes, infection, poor results and unfavorable scarring. Dr. Jaibaji will discuss potential complications and adverse reactions during your consultation.
When Is Tattoo Removal Necessary?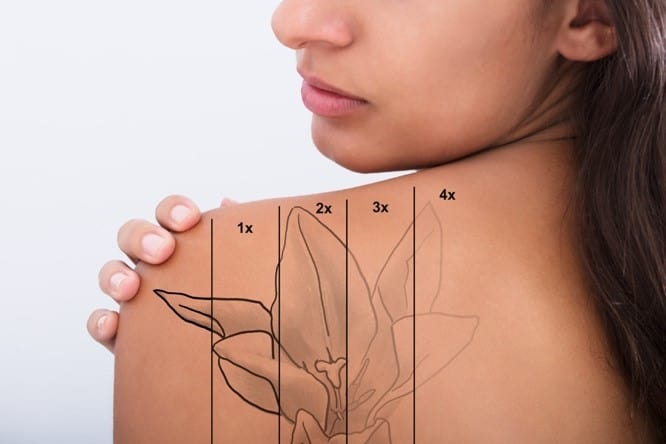 Tattoos are meant to be permanent marks or designs on the body. The pigment is inserted into the deeper skin tissue (dermal layer) through tiny punctures in the skin with a tattoo gun or needle. If you're unhappy with your chosen tattoo or have outgrown its design or meaning, tattoo removal might be right for you. People who wish to join the U.S. Navy or other sections of the military may have to remove tattoos from their hands, forearms or other visible areas before enrollment.
Candidates for surgical tattoo removal or laser tattoo removal should have realistic expectations for their results and be in good overall health. Laser tattoo removal works best for dark tattoos on pale skin, but treatments are available for all skin types.
People with serious health concerns, such as immune disorders, HIV or diabetes, should not have tattoo removal. If your skin is prone to keloid scarring or hypertrophic scars, these treatments may not provide your desired results.
Dr. Jaibaji can determine if tattoo removal is right for you during a one-on-one consultation at our Coronado, California, plastic surgery office. He will review your medical history, cosmetic goals and other factors influencing this decision.
Schedule a Cosmetic Surgery Consultation with Dr. Moneer Jaibaji
Are you interested in learning more? Contact us  to schedule a consultation regarding your tattoo removal. During your consultation, you will have the opportunity to review our gallery of patient photos and discuss details such as your total cost and expected recovery time. Call Jaibaji Plastic Surgery at (619) 522-0821 or fill out our online contact form.